Alpari
Contest name:
Full Throttle
Prizes: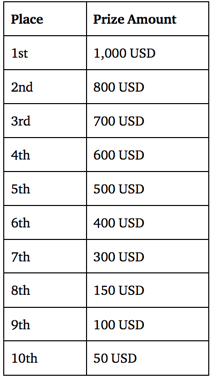 Goal:
Participants are ranked according to the "Volume Point" rating.
The "Volume Point" rating is used to rank contest contestants:
VP = V 2 * 1 000 / N , where
V — Total number of lots;
N — Beginning Equity + Deposit.
Description:
Each Round Lasts: 2 weeks
Total Prizes Each Round: 4 600 USD
Number of Prize-winners: 10
The minimum required deposit is: 250 USD, 200 EUR, 200 GLD or 12 500 RUR.
The following accounts are eligible for the contest: standard.mt4, pro.mt4, ecn.mt4.
A participant can withdraw the prize at any time after the prize is credited to the live account.
A D V E R T I S E M E N T
Information about the broker:
Alpari.com is operated by the Alpari Limited, a company regulated by the International Financial Services Commission.
Duration: each contest round lasts two weeks with a two-week break between rounds The contest is over
source: alpari.com
Link to the promotion
Do you recommend this promotion?

A D V E R T I S E M E N T

A D V E R T I S E M E N T